First Communion Information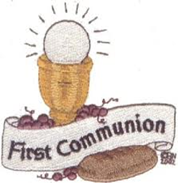 You are requested to present your child for the Sacrament of
Penance on
Thursday, 31st March 2022 at
7:00 p.m. in
St. Patrick's Church, Corduff
*Please have your child in the church for 6:50 p.m.
An enrolment ceremony for children whose parents wish to prepare them for the Sacraments of First Penance and First Holy Communion will take place in St. Patrick's Church, Corduff on Tuesday 23rd November during school-time.
Proposed First Holy Communion Dates
Ms. Kane's/Ms. Gallagher's Class. Sunday 8th May at 11:30 am.
Ms. Walsh's Class. Sunday 15th May at 11:30 am.
Ms. O'Connor's Class. Sunday 22nd May at 11:30 am.
St Patrick's Junior National School, Corduff, Blanchardstown, Dublin 15
Phone: 01 821 1546